DIY: Beauty Dish
Wir hatten euch ja schon einmal ein do it yourself Video für eine günstige Aufsteckblitz-Wabe gedreht. Bei unseren DIY-Projekten geht es uns hauptsächlich darum, dass die Konstruktionen möglichst simpel und billig sind, oder die Bauteile sogar schon komplett in jedem gut sortierten Haushalt vorhanden sind. So stießen wir auf die wohl günstigste Variante für einen Aufsteckblitz-Beauty Dish. Er kostete uns gerade mal 89 Cent (wenn man davon ausgeht, dass jeder Haushalt Alufolie und Klebeband besitzt) und die Idee stammt vom selben Buchautor wie der Wabenfilter vom Letzten mal.
Wir kauften uns also im nächsten Haushaltswarenladen eine kleine Plastikschüssel mit ca. 25 cm Durchmesser und bastelten wie wild drauf los. Natürlich haben wir das alles hier für euch dokumentiert:
Jetzt ist das alles recht und gut, und das Video ist durchaus auch sehr unterhaltsam. Doch mussten wir am Ende unserer Bastelei feststellen, dass unsere Testbilder mit und ohne Beauty Dish VÖLLIG identisch waren. Der Diffusor macht die komplette Arbeit und ist leider keinesfalls mit dem inneren "Ring" einer echten Beauty Dish Konstruktion vergleichbar. Also Leute: Baut das Ding auf gar keinen Fall nach. Es ist die 89 Cent wirklich nicht wert! Uns kam das Ganze in der Bauanleitung schon ein bisschen spanisch vor, doch wir dachten: "He, der hat ein Buch über Do it Yourself Aufsteckblitz Lichtformer veröffentlicht. Das Ding kann doch nicht komplett für den Arsch sein". Doch genau das ist der Fall.
Zum Trost, und weil wir das so nicht auf uns sitzen lassen wollen, haben wir euch hier noch ein paar Links mit teureren, aufwendigeren, aber auch deutlich vielversprechenderen Bausätzen zusammengestellt. Bis zum nächsten Mal, wenn es wieder heißt: Wenig drin für wenig Geld…
Beauty Dish Bausätze von:
Todd Owyoung (i shoot shows)
Light and Pixels
The F-Stops Here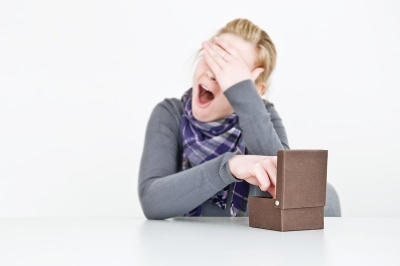 Und jetzt noch ein kleiner Punkt auf den viele von euch schon gewartet haben. Unsere reizende Assistentin Tanja hat fair gelost und so können wir jetzt auch den glücklichen Gewinner des 3-Tage-Abos von Video2Brain verlauten.
Änd de Wiener isst... ...Trommelwirbel... ...mehr Trommelwirbel... ...noch ein bisschen Trommelwirbel... ... so jetzt reichts!... ... ach was, ein bisschen Trommelwirbel geht noch... ...Tadaaa... ...Benjamin Becker. Wir wünschen dir viel Spaß mit dem Abo und hoffen, dass die Tanke nebenan ihren Red Bull Vorrat aufgefüllt hat.